WHAT'S TO LOVE.
Deep, thorough cleaning of the waterline
Keeps oil glands from clogging with eyeliner wax
Healthy for meibomian glands & the tear film
Targets all eyeliner types, including 24hr eyeliner
DR. GILL'S KEY INGREDIENTS.
Australian Tea Tree Oil - Naturally antiseptic and cleansing for the meibomian glands.
Organic Jojoba Oil - Balances sebum production; provides barrier protection for the thin eyelid skin.
Grape Seed Oil - Rich in linoleic fatty acid that easily absorbs into the eyelid skin providing anti-inflammatory and antioxidant protection.
TEA TREE EYELID & EYELASH MAKEUP REMOVER OIL. Organic Simmondsia Chinensis (Jojoba) Seed Oil, Vitis Vinifera (Grape) Seed Oil, Melaleuca Alternifolia (Tea Tree) Leaf Oil.
Remove all eye makeup on eyelids and waterline. Place 1 drop onto Eyelid Margin Scrub Brush. Shake off any excess. Pull lower lid down or upper eyelid up, and with the aid of a 10X lighted magnifying mirror, scrub the waterline (eyelid margin) with Eyelid Scrub Brush. Use small back & forth motions like how you would brush your teeth. Repeat on all all eyelids. Wash brush after each use with warm soap and water. Dry on a towel and let air dry.
WHAT TO EXPECT: Deep cleansing your waterline takes practice. Sensations you may feel include discomfort, tickling, scratching, relief, watery eyes, runny nose, and/or red eyelid margins directly after use. These are all normal expected sensations.
Non Toxic Ingredients
Third Party Tested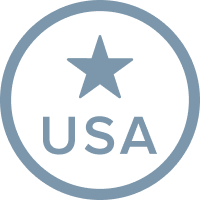 Made in the U.S.A.
Good Manufacturing Practice
Leaping Bunny Certified